All on 4 Dental Implants in Warner
All on 4 Dental Implants in Warner
Can only four implants restore all of the teeth in the upper or lower jaws?
Thanks to modern dental implant innovations, the answer is YES.
Believe it or not, tooth loss is common among adults, especially as we age. Many people lose all of their teeth in the upper and/or lower jaw arches.
Rather than enduring the discomfort and hassle of wearing removable dentures, many people are choosing what is called the "All-on-4®" dental implant restoration concept.
All on 4 dental implants* is a cost-effective, graftless solution that provides patients with a fixed full-arch prosthesis on the day of the surgery.
The All-on-4® characteristics are as follows:
Full-arch rehabilitation with only 4 implants
Two straight anterior implants and two posterior implants tilted up to 45º can restore an entire arch of teeth.
On-the-spot function (fixed provisional bridge)
Best for patients qualified for quick placement of implants.
Graftless process
Bone grafting is bypassed by tilting the rear implants, making use of the available bone.
Why do 98% of All-on-4® patients recommend the treatment concept?
Rapid improvement in quality of life
A fixed full-arch prosthesis on the surgery day quickly leads to improved patient satisfaction on functionality, aesthetics, sense, speech, and self-confidence.
Shorter treatment times
Tilting of the posterior implants prevents the need for time-consuming bone grafting procedures, while prompt installation shortens time-to-teeth.
Less expensive
All-on-4® is quite economical in comparison to conventional implant treatments of the toothless and soon-to-be toothless jaw.
Indications
A significant number of cases treated with All-on-4® are patients with failing dentition.
Patients with edentulism (toothlessness) are also often eligible for All-on-4®. A thorough evaluation of any patient is necessary to choose the right treatment and to establish a predictable treatment outcome.
All-on-4®: 4 dental implants, 1 full-arch of teeth
To fully understand this concept, you should first know what dental implants are.
Dental implants are tiny titanium screw-like posts that are surgically placed inside your jawbone to replace missing tooth roots.
Minor surgery is performed to place dental implants. After the dental implants are placed, crowns are attached to give you a natural-looking and functional replacement tooth.
Here's where it gets fascinating: You don't need dental implants for every missing tooth.
All you need is 4 well-placed implants on the upper arch, and four on the lower arch, to bring back your full smile.
That's the beauty of the All-on-4®. And because the implants are made of a biocompatible material (titanium), they have the ability to fuse to the existing bone, function as part of it, and cause no adverse reactions.
Eventually, the dental implants fuse with the jawbone and serve as strong, long-lasting anchors for your new teeth.
Aside from ensuring that your dental implants are permanently fixed in place, this osseointegration (bone fusion) has another benefit: it helps prevent future bone loss.
This helps to maintain more youthful facial features—and better oral health. But perhaps the greatest surprise about the All-on-4® is how fast it can transform your life.
The All-on-4® Dental Implant Process
It can be frightening to get implants. Most of that fear is probably due to the uncertainty.
Here is the process for getting an All-on-4® implant.
First, your Warner dentist will make sure you are comfortable, either local or general anaesthesia will be administered.
Next, your dentist will prepare your mouth for the implants, which involves removing remaining failing teeth and diseased or infected tissue from your jaw and gums.
Then, the implantation process begins. This means they will insert the titanium posts into your jawbone. Most likely, they will place two anterior implants and two posterior implants so the "anchors" can evenly bear the force of the denture.
After the implants have been placed, the surgical sites are cleaned, and all the incisions are sutured. You'll be taken to a recovery room where you can relax and take time to wake up from the anaesthesia.
Recovery Time
The recovery time after receiving conventional dentures can range from 3 to 8 months, but after getting All-on-4®, you should be functioning sooner. This is because the implants integrate into your bone and stabilise the denture on the day of the surgery.
When you go home from surgery, make sure you don't do anything that may disturb the tender areas.
Do not rinse or touch the implant site, except for gentle brushing with a very soft toothbrush. Smoking is a very bad idea if you want to heal fast and well.
Although you must be extra gentle, it's also important to keep your mouth clean. Your dentist will prescribe a medicated rinse to keep bacteria down in your mouth and help promote speedy healing.
All-on-4® Implants in Warner
In summary, the All-on-4® procedure can be expensive, but the amazing results serve you well, thus making every cent count.
Because of this, All-on-4® patients, generally, have been very happy.
Visit your Warner dentist for a consultation today!
All on 4 implants for $13,000 only
We provide high-quality affordable dental implants to the communities in Warner, Warner Lakes, Joyner, Whiteside, Cashmere, Albany Creek, Aspley, Bridgeman Downs, Bald Hills, Strathpine, Brendale, Bray Park, Eatons Hill, Griffin, Lawnton, Petrie, Carseldine, Chermside, Stafford Heights, Hamilton, Indooroopilly, Toowong, New Farm, Fortitude Valley, West End, South Bank, Paddington, Sandgate, North Brisbane and South Brisbane.
We also offer affordable dental implants for communities in Gympie, Gold Coast, Sunshine Coast, Sunnybank Hills, Ipswich, Bribie Island and Buderim.
All on 4 Dental Implants in Warner
For more information on All-on-4® implants, call us on (07) 3448 0162 or visit us at Warner Lakes Medical Precinct, 1185B Old North Road in Warner.
*All on 4 dental implants also known as "All-on-4® implants"
Dental Implants Resource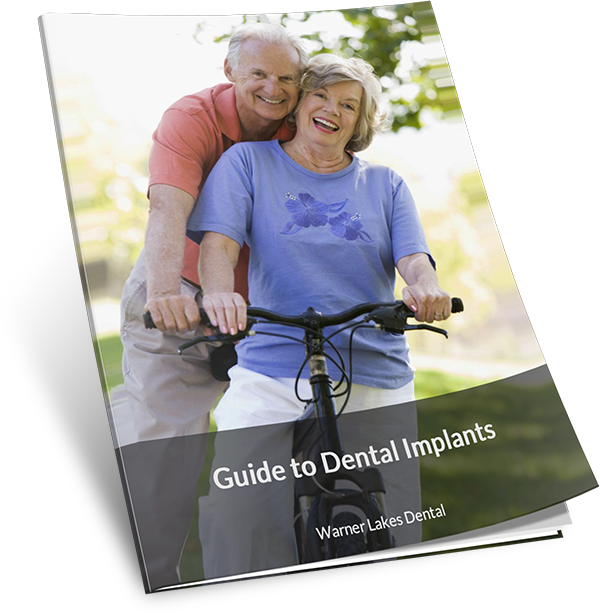 FREE Guide to Dental Implants Now Available
Get your copy of the ultimate patient guide to dental implants today!